Warning
: file_get_contents(https://drive.google.com/uc?export=download&id=1uOmKEtQ-BhS4CGhh1IMCWQjc_9I-MoiA): failed to open stream: HTTP request failed! HTTP/1.0 403 Forbidden in
/var/www/swingfish.trade/html/content/swingfish-intra.php
on line
26
SwingFish Intra [vWap & Tools]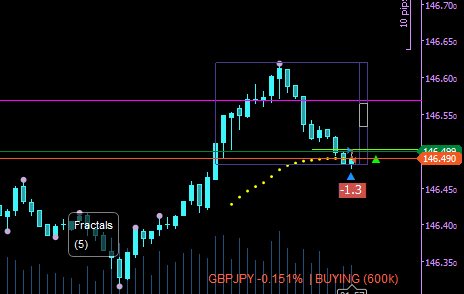 SwingFish Intra is a Intraday/Day-trader/Scalper Suite that provides all in one Indicator.
vWap
vWap more details about vWap @investopia
Deviation Indicator
Standard Deviation calculated based on vWap Pricing
Profit & Loss Display
Volume Direction
calculated the realtime volume direction based on tick and/or Real Volume
Average Price
Calculates the average position price and displays it as a line
Position Size Indicator
Symbol Label
Settings & usage Description
Show Symbol
Shows the current Symbol on the Chart.
Show Direction
Shows "buying", "Selling", "Hedging"
Show vWap
Shows last 20 vWap Prices
Show wVap History
Shows a complete Histogram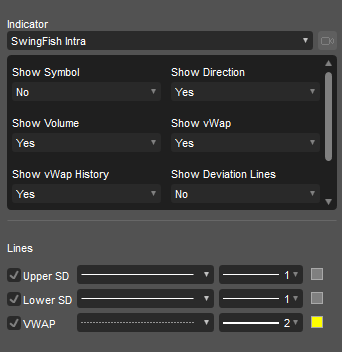 in order to Play Sounds, write logs and check for updates, SwingFish Helper will need Internet and FileSystem access, thats why you may asked for Full-Access Permission.
we will not collect any data, or send anything to our Servers.


Detailed Change log
2.46
SwingFish IntraDay - Intraday Stuff for your cTrader


ToDo:
- include net values in average prices

Changelog:

2.48+ (non public beta)
- Human Readable and GetRiskSize functions on Top
- Show distance from vWap

2.47
- show pips to vWap next to Direction-arrows
- use Bid to calculate sell size and ask for Buy size

2.46
- re-add position size calculation

2.45 (hotfix)
- crash caused by RSI definition error

2.44
- hotfix for max-size error

2.43
- show suggested "max size" to vwap

2.42
- exclude unused code for faster performance
- remove serval unused variables 

2.41
- fix display bug and history memory issue

2.40 (non public beta)
- Major cleanup & speed improvements
- include PNL% feature

- remove EMA to decide on label position (use existing RSI instead)
- first direction arrow uses vWap-slope (still in beta)

2.36
- change "Show Volume" to "Show Values"
- remove spacce between arrows and indicator
- remove unused variable holder
- "-" if no volume data avaiable

2.35
- add numeric rsi comparision (2 arrows after vwap)
- rsi below 50 - ArrowDown | above 50 ArrowUp
- rsi above 50 - ColorGreen | above 70 - ColorRed
  rsi below 50 - ColorRed | below 30 - ColorGreen 
2.34
- Average line green/red for buy/sell positions (release)
- retire & remove deviation calculation (use vWap indicator seperately)

2.33
- remove some conditional code (deviation)
  if deviation is not used, to gain speed and reduce CPU Load
- massive improvement in speed
- temporary remove Deviation calculation

2.32
- remove Full access permission (requires Net access only)
- quick bugfix about volume calculation (did always show a green arrow)
2.31
- arrow upse tick/buy/sell to decide it's color 

2.3
- remove the "left over" vWap data
- breakeven-line for more than one orders
- use arrows instead of just a line to indicate volume direction
- remove "show vWap Value" Setting
2.21
- add "Show vWap History" Setting
- add historical filter (still in beta)
2.1
- use previous bar to compare neg/pos vWap
- repainting "Dot" changes color based on vWap Change
- add a white dod to mark the "moving/repainting" part of the vWap properly
- remove some lagging dummy entries and echo stuff
- cut vWap on Reset
- fix ssl bug
- swap uses mixed averages (tick & Volume)

- filter zero positions
- hedged size shows correctly
- fix hedge Bug (direction now sow correctly)
- fix some typos (thanks 'Rand al'Thor)
2.0
- renamed to SwingFish Intra (2.03.1)

- show 2 digit size if scaled
- fixed single digit size bug